After extensive market analysis, careful evaluation and a swift pilot project to prove the concept, the British Gas division of Centrica, Plc. [1] elected to use Digi-Access™ [2] to provide two factor authentication for mobile access to the Centrica Network.
As the UK's largest gas and electricity provider, more than 10,000 British Gas engineers were activated in the first few days of August. These users do not visit corporate office very often and their laptops are not members of the corporate Active Directory [AD] domain. Centrica has an enforced password aging policy and this presented serious security issues for the secure remote access project. As the systems integrator, Benchmark [3] solved these issues by making AD authentication and password aging part of the standard login process that PortWise™ [4] offers as part of their standard product. Working togehter with PortWise™, this standard solution was then updated to work seamlessly with Digi-Access™.
To deliver this requirement the solution had to meet certain requirements and have specific functionality, that included: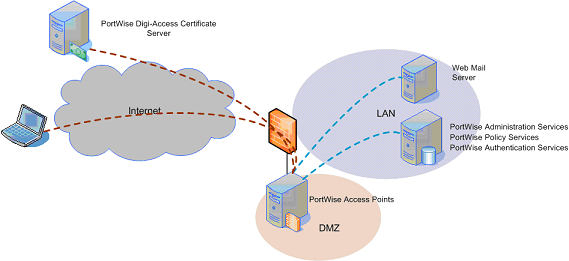 Each user's device on the network is first identified by PortWise™ before being autheticated using Digi-Access™ two factor authentication. This completes the required level of high grade, two factor authenticated access to the Centrica Network. This is how the application works:
As the PortWise™ & Digi-Access™ certificate solution are both delivered as a service, there are no additional server requirements within the Centrica network. The solution was enabled using the existing PortWise™ servers and the external Digi-Access™ Certificate Authority [CA].
This contract with Centrica was delivered by BM Europe Limited t/a Benchmark (an ARP Network [5] member )in co-operation with our technology partner PortWise™. This is the third such implementation of Digi-Access™ for a national utility company and is further confirmation of the sophisticated security that Digi-Access™ two factor authentication provides.