Using Digital Signatures to Sign Online Forms & Files
For signing on line, or browser based, transactions Digi-Seal™ Server is the perfect solution. The thin client applet is automatically downloaded to the browser and is a 'one time only' action that occurs seamlessly without any prior knowledge or action on the part of the end user. Once the Digi-Seal™ applet is activated, the user can sign forms and file uploads using their personal digital signature [1].
There are two options with Digi-Seal™: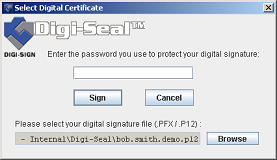 See the online demo
If the user is submitting a file or form and wants to digitally sign it, they select the "Digitally Sign File" button. Again, the Digi-Seal™ applet will automatically select the correct certificate for the specific user and digitally sign the file before submitting it.
Digi-Seal™ provides javascript(s) that your web site designers will place on each form so that the functions will work correctly. Whenever any of the buttons on the forms are selected, the Digi-Seal™ applet will automatically select the correct certificate for the specific user and digitally sign the file before submitting the form.