Useful information for your BITS Digi-ID™
For the Kingdom of Saudi Arabia, Digi-Sign proudly announces its formal relationship with BITS [1] for the sale of innovative solutions such as Digi-CA™, Digi-Seal™ and many other digital certificate and Public Key Infrastructure [PKI] systems.

For digtial workflow solutions you require a BITS Digi-ID™ digital signature [2]. Contact BITS on +966 1 206-5515 to purchase the Digi-ID™.

New users should read the notes below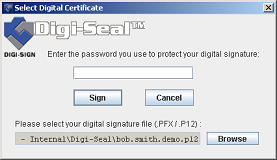 Enrollment Instructions
Getting your Digi-ID™ is a simple online process. Before you enroll [3] you will need the following:

It can take up to 24 hours for your application to be processed, before you receive the Digi-ID™ Activation Email that completes the process
Once the enrollment is complete & you have your Digi-ID™ you will need to export the digital signature using these export instructions >> [4]
Note on Email Requirements
Using using Microsoft® Internet Explorer® only, the enrollment process [5] is a two-step process. Ensure that you can send and receive email from the computer that you use to enroll from and also that you complete both stages of the enrollment from the same computer.
The email address you use must be a corporate email address and cannot be a Gmail, Yahoo!, Hotmail or other online email address.
Learn more about the BITS Digi-ID™ [2] or browse the pages below: