How Your Organisation Gets an SSL Certificate

[1] The process of requesting and receiving an SSL Certificate [2] typically involves technical people in your organization completing web forms and/or emails to request and receive them. This largely manual process takes some time and there are also request/response time delays between each of the 'steps' of the process. The following diagram illustrates the standard steps in the process of requesting and installing an SSL Certificate on a device or server.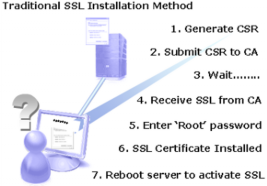 With this number of steps and the need to rely on the CA [3] to act promptly to all requests (assuming that the Validation of these requests by the RA is positive so that the Certificate can be issued), 'time loss' is a natural consequence of the process.