Multi-Server with No Internet Connection

[1] The CSG™ [2] appliance is specifically designed to meet the requirements of the medium to large organization where some, or all, of the SSL servers cannot connect either directly or indirectly to the internet. As explained in sub section 2.5.2, the CSG™ appliance can be installed inside the network and all of the servers can be rerouted through the CSG™ that in turn connects with the CA [3] for issuing and renewing the required SSLs.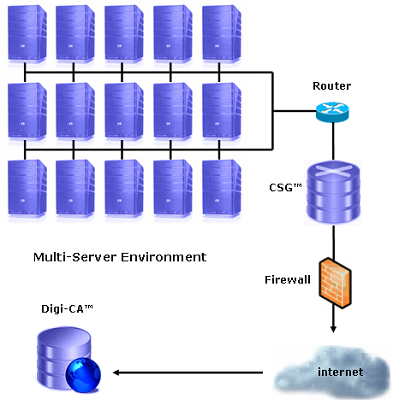 Your NOC or SOC will decide on the best location to install the CSG™ appliance(s) and then the config.txt file for the DSSA™ [4] will be configured to direct the DSSA™ to the IP Address where it is located. As part of the weekly or monthly maintenance, servers will have the DSSA™ software installed and will automate the life cycle of all the SSLs on the network without further intervention.
The CSG™ is a 2U, customised Linux® server with an nCipher netHSM 500 PCI card and proprietary Digi-CA™ [2], AACD™ and CSG™ application software installed before hardening [5] the complete appliance. The CSG™ for your environment will be customised by the AACD™ installations team: Digi-CAST2™ and is shipped to you ready for rack mounting.
Once mounted in its rack with the appropriate network number of network cards installed, maintenance and upgrade requirements is minimal.





Important Note: A CSG™ appliance is required for each separate geographic location within the same organisation unless these networks can be connected securely to each other and ultimately to a single CSG™.