[1] Digital Certificates can be used in a variety of different security situations, however the common uses are for proving identity, digitally signing/sealing files and encrypting data. These important capabilities are integral parts of any secure environment.
As can be seen from the diagram below, Digital Certificates come from the Certificate Engine core and it issues the various types of Digital Certificates.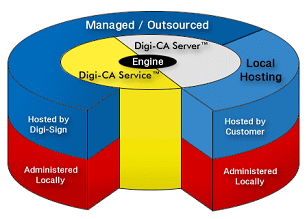 Two Types of CA Systems
Digital Certificates are issued and managed using a Certificate Authority or CA. There are two different types of CA systems:
The Managed CA is supplied as an online service from outside your organization.
We call this Digi-CA™ Service.
The CA Software can be installed at your premises or at your data centre.
We call this Digi-CA Server™.





Managed CA – Digi-CA™ Service
A Managed CA is a service that is provided online using the Application Service Provider [ASP] delivery model. There is no software or hardware requirement. This Managed CA is charged on an annual recurring fee, based on the number of Digital Certificates issued each year. The Customer pays this fee to cover all maintenance, administration and support required to keep the CA operational. The Digi-CA™ Service is a managed CA.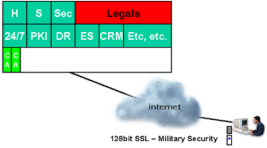 The Managed CA Administrator connects securely to the larger CA environment run and operated by the CA Provider or what is called the CA Trust Centre [2].
Managed CAs are operated by professional organizations that specialise in Digital Certificates and have been certified to issue Trusted Certificates. Managed CAs that offer Trusted Certificates run and operate Trust Centres.





CA Software - Digi-CA Server™
CA Software is a software product that is installed, either in a data centre or at the Customer site. This CA Software charges a once-off fee upfront that is based on the cost of the software, its configuration and installation and then the number of Digital Certificates required over the life of the product's use. The only other fee the Customer pays is an annual license fee (about 25% of the license fee) to cover upgrades, patches and application telephone support required to keep the CA operational. Digi-CA Server™ is CA software.





The CA Software user creates and controls their own CA environment but in so doing must have reliable Internet connections, hardware, hardware support, compliance [3] documents, Administrator's and its own Technical Support Help Desk.