Managed Certificate Authority [CA]

[1] In addition to the many unique benefits [2] and features offered by the system, Digi-CA™ Certificates can be used in a variety of different security situations as can be seen below:
Digi-CA™ Service is the Managed CA that can provide any of the above Certificates as required. The Certificates come from the Certificate Engine core and are managed using the Control Centre in Digi-CA™.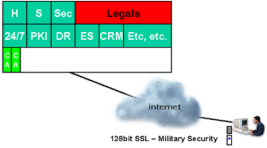 Your Administrator connects securely to the larger Digi-CA™ environment run and operated by at the Digi-CA™ Trust Centre [8] operated either by Digi-CAST™ personnel or by a Digi-Trust™ Partner [9].
There is no software or hardware requirement on your site. This Managed CA is charged on an annual recurring fee [10], based on the number of Digital Certificates issued each year. You pay this fee to cover all maintenance, administration and support required to keep the your CA operational.
When Selecting your CA [11] you may want to consider the two other options:
Links:
[1] https://www.digi-sign.com/downloads/download.php?id=digi-ca-pdf
[2] http://www.digi-sign.com/digi-ca/benefits
[3] http://www.digi-sign.com/digi-ca/ssl
[4] http://www.digi-sign.com/digi-ca/two+factor+authentication
[5] http://www.digi-sign.com/digi-ca/secure+email
[6] http://www.digi-sign.com/digi-ca/document+signing
[7] http://www.digi-sign.com/digi-ca/code+signing
[8] http://www.digi-sign.com/en/digi-trust/trusted+services+provider
[9] http://www.digi-sign.com/en/about/third+party
[10] http://www.digi-sign.com/https
[11] http://www.digi-sign.com/en
[12] http://www.digi-sign.com/digi-ca/server
[13] http://www.digi-sign.com/digi-ca/shared