Digi-TaSC & Service Excellence
Systematic Delivery of Service
The Digi-TaSC system is an on line system with strict access controls (using Digi-Access™ [1]) so that the customer, customer personnel, managers, officials, suppliers, providers and our Partner can all monitor the post implementation project environment. In addition, it also ensures that the Service Level Agreement [2] [SLA] is delivered as documented and that everything is correctly supported using this powerful tool. It has a number of central functions:





The Digi-TaSC system centralises all aspects of the environment and ensures all premises access, policies, procedures and personnel are managed and monitored in an effective and simple to use central system. This enables the customer and the Partner to run and operate the entire environment, whilst at the same time educating and familiarising the customer's personnel with every aspect of the environment.
Knowledge Transfer
Because the entire environment is planned, documented, delivered, managed, operated and supported using the central Digi-TaSC system, every facet of the environment is transparent to the customer and to the Partner. Everything from support case capture, resolution and outcome is stored in this system. Information is searchable by name or reference code and every action in the environment is documented at every level by every person.
At any point that the customer may wish to take total control of the environment, by virtue that the Digi-TaSC system is present, taking control is a simple case of removing duplicate roles so that only the customer's personnel operate the system. This is yet another reason for the necessary inclusion of the Digi-TaSC system in most installations.
To gain a further understanding of the components of the Digi-TaSC system, read from the sections below.


Digi-TaSC & Documentation
Reliable Document Storage & Archiving
According to industry 'best practice' (e.g. ISO 27001 [3]), every aspect of the total PKI/CA environment must be documented. This is an absolute requirement if the project is to receive the national or international accreditation.
Once accredited, the continued maintenance of these records is essential if the customer is to retain this accreditation. The documentation must be managed and all updates or amendments must have a clear audit trail that is recorded and clearly shows the authorisation process in any document changes. Digi-TaSC sorts and locates all these documents, ensures document updates follow the correct authorisation process and maintains complete audit trails of all transactions.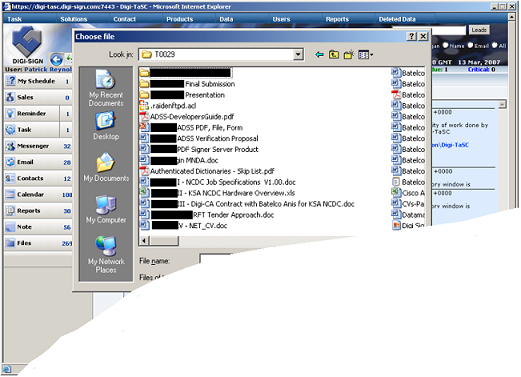 Digi-TaSC & Personnel
Personnel Resource Management
According to 'best practice', every role and responsibility for every member of the customer environment should be documented and then managed, again with clear audit trails and authorisations. Therefore, the physical movement of staff, their locations and responsibilities, the requesting, authorisation and approval of personnel activities must all be monitored, recorded and reported on.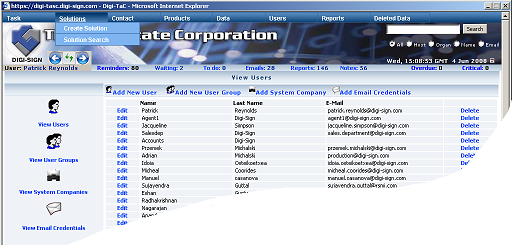 Digi-TaSC & Resource Allocation
Efficiency through Management
Digi-TaSC provides not only what is considered 'best practice' but also enables the customer's Management to employ and use the personnel resources in the most efficient way. It does this using the Tasking Method (the 'T' in Digi-TaSC). Every person is assigned a personal account on the system that enables them to send and receive tasks for every activity they do as part of their day-to-day activities. Task setting, assignment rules (by individual), completion, checking, approval/rejection and time tracking are all central components to the Tasking component of the system.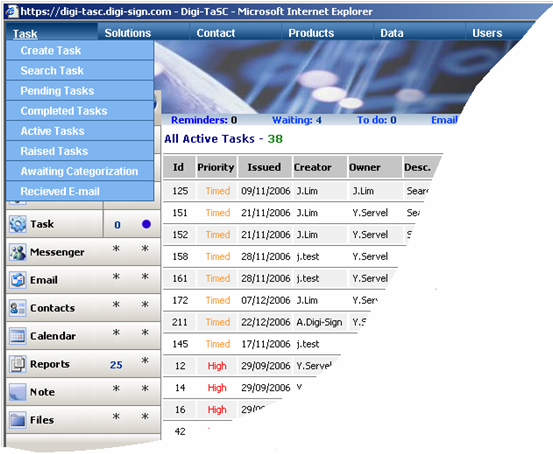 Digi-TaSC & External Resources
Managing Third Parties
Digi-TaSC also provides the necessary supplier and external providers' documentation and management in accordance with 'best practice'. In the same way as internal Tasks are managed, external resources are appointed, documented, supervised, requested, authorised and approved for all interaction with the customer. Full auditing and document management is also integral to this component of the system.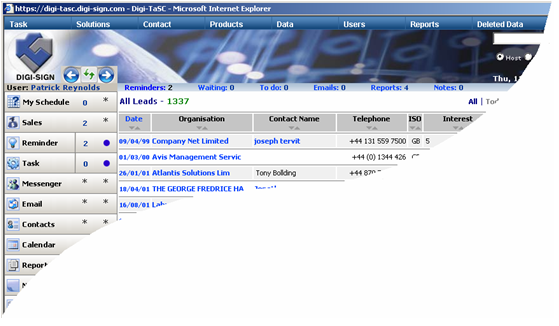 Digi-TaSC & Delivering Support
Incident Management & Escalation
Digi-TaSC manages and monitors all support (the 'S' in Digi-TaSC) cases both internal and external. It monitors all parties involved in the support issue regardless of whether they are internal or external and can be used to track time responses and resolution as required.
All failures, all internal support requests, all subscriber enquiries or support enquiries and all internal support staff and help desk staff use this system. This component of the system also monitors the performance of the staff (regardless if they are customer personnel or Partner personnel) and systems performance in accordance with the Service Level Agreement [2] [SLA]. The automated incident management System [IMS] in Digi-TaSC monitors all performance and reports on compliance or breaches of the SLA.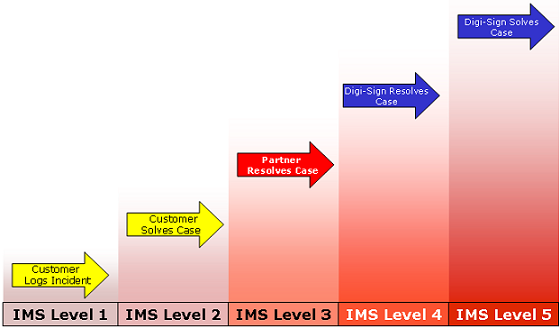 Digi-TaSC & Sales Management
Commercial Management
The Customer management (the 'C' in Digi-TaSC) component maintains a complete log of all subscribers according to the certificate they received (or were sold). It contains the database of information required to communicate and work with customers/subscribers, reports on case histories, support history, communication history and all interaction are central to this component of the system.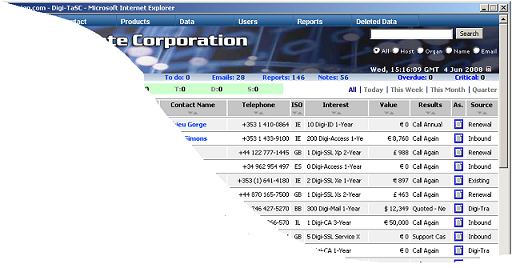 Digi-TaSC & Reporting
Detailed Critical Reporting
Every aspect of the system has reports that can be generated on demand by authorised users (some reports available to the Security Officer will not be available to an Administrator for example). All reporting functions can be modified according to the customer requirements that will emerge during project planning, live operations and requests from time to time.
The Digi-TaSC is a proprietary system that is designed, developed and owned by Digi-Sign and is not available anywhere other than as part of a total Digi-CA™ environment delivery.