System Architecture
Each application component provides a series of defined functionalities to other PKI [1] application components of the system, as well as to administering and operating parties, and to end entities, to whom Certificates are issued. This system is built with the following modules:
a. CA Application Server [CA AS]
b. Cryptographic Service Provider [CSP]
c. Time-Stamp Gateway Server [TSA]
d. Online Certificate Status Protocol Gateway Server [OCSP ]
e. CA Administration Management Console [CA AMC]
f. Registration Authority [RA] Management Console [RA MC]
g. Registration Authority [RA] Registration Service [RA RS]
All Digi-CA™ [4] components providing core functionalities were developed using C programming language and the software operates under Unix/Linux operating system environment, which has proven to be a solid, reliable – and if not the best - platform family choice for server side applications.
Diagram below illustrates the overall logical and high level hardware architecture design of a complex PKI infrastructure that Digi-CA™ [4] can be deployed in. This includes multi-server based system component distribution, replication and failover of various PKI services and load balancing.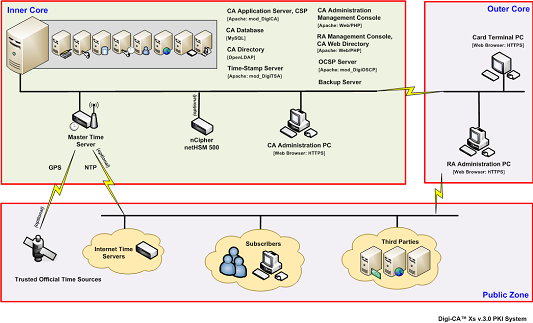 Whilst Digi-CA™ software can meet most complex requirements, in many scenarios it is often required to operate all PKI related services on a single dedicated server hardware. Digi-CA™ can easily meet this requirement and the diagram below illustrates overall logical and high level hardware architecture design of the basic infrastructure utilizing a single server to operate all Digi-CA™ PKI services. This unique feature of Digi-CA™ software suite provides not only a flexible range of possible configuration variations but allows organisations to slowly build their own PKI infrastructure from a very small environment, thus carefully control their expenditure related to purchasing and maintenance of hardware devices.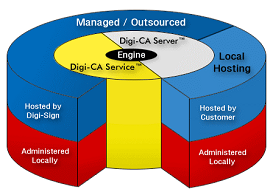 Digi-CA™ PKI System provides a wide range of PKI related functionalities and introduces a variety of services and features including:
Links:
[1] http://www.digi-sign.com/public+key+infrastructure
[2] http://www.digi-sign.com/certificate+authority
[3] http://www.digi-sign.com/digi-ca/administrator/online+certificate+status+protocol
[4] http://www.digi-sign.com/digi-ca
[5] http://www.digi-sign.com/digi-ca/administrator/time+stamp