Download Form 1
DSSA™ Validation Download

[1] The Validation Download is the simplest method of downloading and activating the DSSA™ software. This is because the Validation Download initiates the Validation of your organization and the software download by completing a single set of three web forms. These forms are explained in the following sub sections:
Validation Request Initiation Form
Software Selection & Configuration [2]
Account Creation & Payment Options [3]
All forms are intuitively designed and every field has a help button opposite so that completing this form should be straightforward. The information entered in this form is used by the Validations Department to Validate & Verify [4] the integrity of your organization in accordance with WebTrust 'Best Practice'.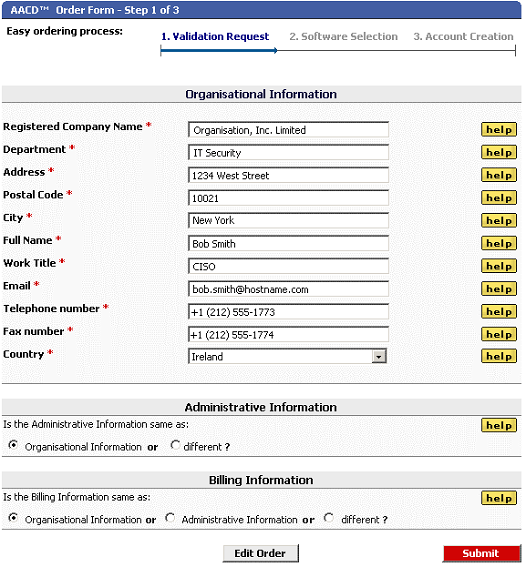 The importance of correctly completing this form cannot be over stated, so to enable the smooth implementation of your AACD™ system, take the necessary time to complete this form accurately.
There are three sections to the Step 1 Form when downloading the DSSA™ software:
Each of these sections separates the legal information or 'Organizational Information' required to correctly validate your organization; from the technical person in your organization that will provide the 'Administrative Information' and act as the point of contact for all IT and technical matters; and separates each of these roles from the 'Billing Information' required so that all accounting and financial matters can be directed to the correct person also.
If the IT Administrator and the Billing Contact in your organization are all different roles with different personnel, then you must expand this form and supply the Administrative Information and Billing Information as required.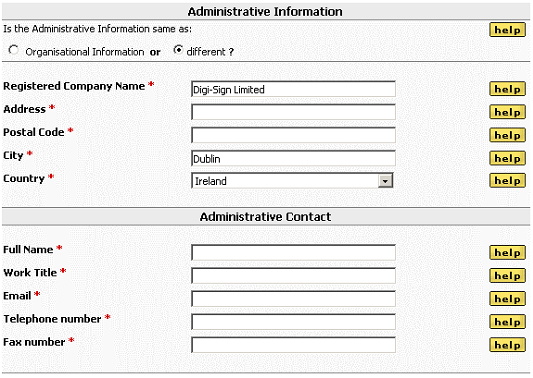 Important Note: As stated, if the Administrative or Billing contact information are different from the Organizational information provided in the upper section of the AACD™ - Order Form Step 1 of 3, you must click the 'different ?' radio button underneath the respective section and complete this section of the form also.
Once all sections of the 'AACD™ - Order Form Step 1 of 3' form are completed you can submit this form and move to the second form: AACD™ - Order Form Step 2 of 3, the Software Selection & Configuration form.