Displaying the SSL secure padlock

[1] The complexities of the SSL protocol remain invisible to your customers. Instead their browsers provide them with a key indicator to let them know they are currently protected by an SSL encrypted session – the Padlock:



As seen by users of Internet Explorer
Clicking on the Padlock displays your SSL Certificate and your details: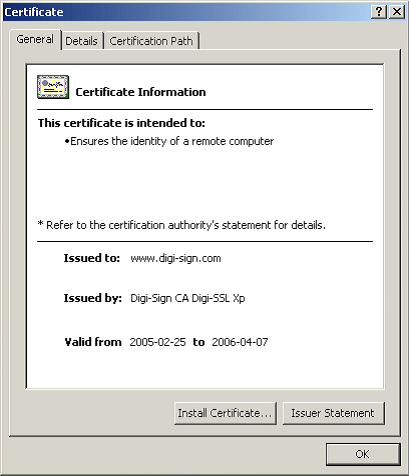 All SSL Certificates [2] are issued to either companies or legally accountable individuals. Typically an SSL Certificate will contain your domain name, your company name, your address, your city, your state and your country. It will also contain the expiry date of the Certificate and details of the Certification Authority responsible for the issuance of the Certificate. When a browser connects to a secure site it will retrieve the site's SSL
Certificate and check that it has not expired, it has been issued by a Certification Authority the browser trusts, and that it is being used by the website for which it has been issued. If it fails on any one of these checks the browser will display a warning to the end user.


Why should you use an Digi-SSL™ certificate?
Digi-Sign, the Certification Authority behind Digi-SSL™, is the fastest growing SSL Provider in the world. Unlike other Certification Authorities, Digi-Sign does not just provide SSL Certificates – they are a world-renowned security and cryptography service provider. When you are a customer of Digi-Sign, you can feel safe knowing that your website security is provided by experts. Digi-SSL™ Certificates are the most cost-effective fully validated and fully supported
128 bit SSL Certificates you can buy today! You can contact the technical support team between 7:30am - 16:00pm GMT (soon to be 24 hours). You can also feel safe in the knowledge that
Digi-Sign will validate your application in accordance with the latest digital signature [3] legislation pertaining to Qualified Certificates. This validation is done effectively and quickly, ensuring you need not wait the traditional 3 working days normally associated with a fully validated SSL Certificate.