Certificate Authority Types

[1] The two different types of Digi-CA™ systems are:
Digi-CA™ Service

The Digi-CA™ Service is supplied as an online service from outside your organization.

Digi-CA™ Server

Digi-CA™ Server is installed at your premises or your data centre.


Digi-CA™ Service
The Digi-CA™ Service is the Managed CA and as explained in 2.6.2, it is the service that is provided online using the Application Service Provider [ASP] delivery model. There is no hardware or software requirement at the customer site.
The Digi-CA™ Service is charged on an annual recurring fee based on the number of Digital Certificates issued each year and this covers all maintenance, administration and the support that is required to keep the Digi-CA™ [2] operational.
You can choose to start with Digi-CA™ Service, migrate to Digi-CA™ Server and then further migrate back to Digi-CA™ Service with ease. This is because the Digi-CA™ Service and Digi-CA™ Server systems share a common architecture and the same Digi-CA™ Certificate Engine.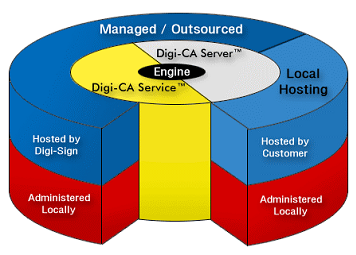 No other vendor offers this high degree of flexibility, migration and integration capabilities.
There are seven variations of Digi-CA™ Service namely:
Links:
[1] https://www.digi-sign.com/downloads/download.php?id=digi-ca-pdf
[2] https://www.digi-sign.com/digi-ca
[3] https://www.digi-sign.com/digi-ssl
[4] https://www.digi-sign.com/digi-access
[5] https://www.digi-sign.com/two+factor+authentication
[6] https://www.digi-sign.com/digi-mail
[7] https://www.digi-sign.com/digi-id
[8] https://www.digi-sign.com/compliance/introduction